News
Yu Kakizawa received Honorable Award for Presentation at Meeting of Surface Science Society of Japan.
2017.3.30
Yu Kakizawa, first-year Ph.D. student of the Special Program for Green Energy Conversion Science and Technology, received Honorable Award for Presentation (Students' Division) at the 36th Meeting of the Surface Science Society of Japan held from December 1st to 3rd.
The title of the presentation was "Optical-Probe Measurements of Oxygen Partial Pressure at Surface of and inside Gas Diffusion Layer of Polymer Electrolyte Fuel Cell during Power Generation".
Kakizawa analyzed the newly-found oscillation phenomenon inside polymer electrolyte fuel cells and elucidated the mechanism by studying the influences of the gas flow rate at the cathode and the current density, while measuring the oxygen partial pressure inside the gas diffusion layer using a novel analytical instrument developed in the University of Yamanashi.
The award was given for the superior academic values, the direct contributions to the industry, as well as for the excellent answers to the questions posed after the presentation.
Kakizawa says "It is such an honor to have received this wonderful award. With this honor in mind, I will keep researching hard for further accomplishments. I truly thank Prof. Junji Inukai, my supervisor, Prof. Akihiro Iiyama, director of the Fuel Cell Nanomaterials Center, and all faculty members and friends in the laboratory.
【The award ceremony on May 20th, 2017】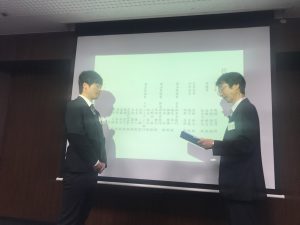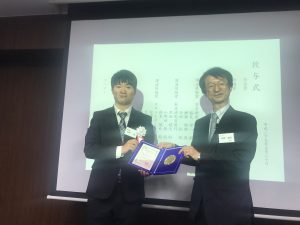 Mr. Yu Kakizawa and Prof. Toshio Ogino, president of "The Surface Science Society of Japan"