Purpose of the program
Dramatic developments are strongly anticipated in the technology of green energy conversion and storage, which is one of the most critical issues facing humankind, and which is regarded as one of the new strategic areas for the growth of our country. The purpose of this program is to nurture leaders who can make green innovation happen in a global setting, with a broad perspective in energy conversion science and technology and of its economic aspects, through an educational approach where a vision is shared by industry, government, and academia.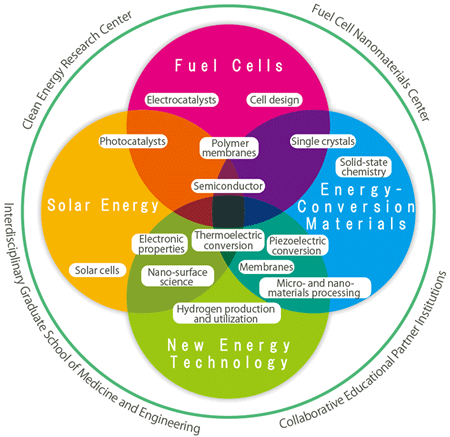 The issues addressed in this program are as follows:
Develop innovative technology in order to efficiently and economically convert and store green energy to establish a low-carbon, sustainable society;
Achieve the best balance of various energy conversion devices and through these studies,
Make green innovation happen.
These issues can be divided into the following four fields (please refer to the diagram):
From short-term, mid-term, and long-term standpoints, the program aims to develop global leaders who will have acquired the ability to address these issues through our instructional approach, which integrates basic and practical studies.