Features of the program
In order to nurture global leaders who will be able to make green innovation happen, this doctoral program provides unique curricula under an innovative instructional system with various features, as follows:
Instructional system
Collaboration in education by various academic and research institutes in Japan and abroad
Along with the four fields at the University of Yamanashi, the doctoral program involves a variety of academic and research institutes that we have concluded affiliation agreements with as follows:
Collaborating institutes (National Institute of Advanced Industrial Science and Technology, National Institute for Materials Science)
Collaborating industrial corporations (Toshiba Power Systems Company, Nissan Motor Research Center)
Global collaboration network (12 overseas universities and institutes)
Under this new instructional system, all of the collaborating institutes work together to ensure that students acquire advanced expertise, practical skills, and an international outlook.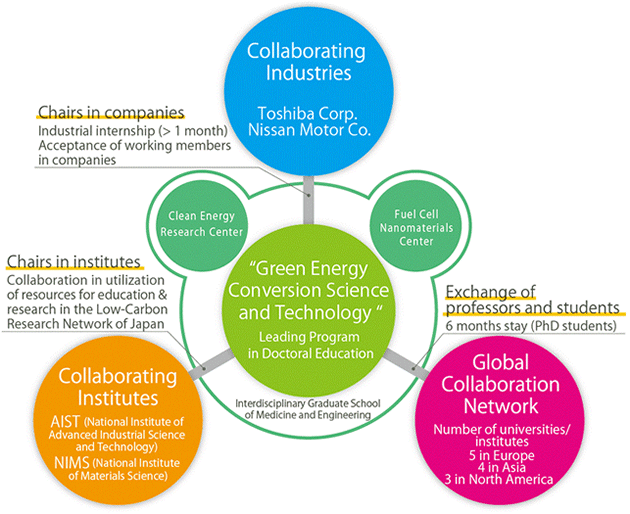 Face-to-face instruction (1.5 students per teacher)
In addition to the faculty responsible for the program (16 professors and 8 associate professors), additional assisting faculty from the University and global partner institutes, 25 in total, participate in the program. The number of faculty is large enough to maintain a student to faculty ratio of 1.5 to 1, creating small-group instruction, with close attention to each student.
Global collaboration network
The program has concluded affiliation agreements with world-renowned overseas academic institutes, resulting in the establishment of a global network with 12 universities and institutes: 3 in North America, 5 in Europe, and 4 in Asia. Faculty exchange and transfer of credits between partner institutes help to nurture students. Symposia on achievements in research and education that arise through this program are also part of the international exchanges.

Attractive research and learning environment
Through the global collaboration network, the program attracts outstanding foreign students and actively accepts employees of domestic companies and students from other departments at the University or other universities, creating a research environment where students mingle and learn from each other. This provides advantages for students to develop an international awareness and to broaden their perspective. To offer students opportunities to gain different insights from each other through discussion, a "café" has been created where all students feel free to participate in discussion, and monthly research meetings are held to present the results of their studies.
Distinctive curricula
Major and sub-major system
Upon entry, students decide on a major and sub-major from among the four fields, to set up their own goals and make a plan for their study. A committee of advisors, consisting of faculty from multiple fields, helps students with planning. This system enables the advisors to offer generous and meticulous care to each student.
"Meister" accreditation system
In order to acquire a solid academic foundation, first-year students are required to take a basic curriculum in green energy science and technology (such as environmental science, physical chemistry, and materials engineering). Students who achieve good results in each subject are recognized as "Meisters" and help other students with learning and research, contributing to exchanges among students both vertically and horizontally.
Development of debate skills
During the two years of the Master's program, subjects of interactive discussion between students and faculty are provided. A particular focus is on developing debate skills in English through interactive discussion subjects presented by foreign faculty. From the third year, open forums are held where students try their skills with their opponents from other institutes, faculty or students from different fields, with the aim of expansion of their point of view and improvement of their debate skills.
Internship in industry
A long-term (one month or more) internship in industry is a requirement in the second year of the Master's program. All students learn at the front lines of industrial R&D at our collaborating companies or companies engaged in the energy business.
Long-term overseas study
In the fourth year of the doctoral program, a six-month study at overseas collaborating universities or institutes is required. During the study abroad, our faculty assigned to those countries provide research guidance and global career education.
Other
Financial support system
To provide students with an environment where they can concentrate on research, the program offers financial aid to students as research assistants. In addition, expenses to participate in academic meetings and to study overseas are provided, as well as expenses for internship at domestic companies, including participation fees, travel and accommodation. To selected students, a financial incentive is provided of the same amount as that provided for a research fellowship at the Japan Society for the Promotion of Science.
For students from overseas, tuition exemptions, residential support and mentoring are also available.
Established career paths after completion
Strong connections to industry and research institutes at home and abroad have already been established through joint research, education and research guidance with collaborating institutes. As a wide range of feedback from industry has been incorporated since the early stage of planning of this program, the curricula are designed so as to develop professionals from the viewpoint of the qualities that industry seeks in employees. This assures a career path in industry after students complete the program.